Freaky Films to Stream this Friday the 13th
The day many superstitious folk dread is here… Friday the 13th has arrived, and it's time to celebrate!
But what should you watch on this unholy day? Below you will embark on our list of 13 film suggestions – sans Jason Voorhees – that we find worthy to watch on this freaky day
---
ATTACK THE BLOCK (2011)


Available to Stream on Prime Video
A teen gang in South London defends their block from an alien invasion.
---
BLACK SWAN (2010)


Available to Stream on Hulu
A committed dancer struggles to maintain her sanity after winning the lead role in a production of Tchaikovsky's "Swan Lake".
---
BODY DOUBLE (1984)


Available to Stream on Criterion
A young actor's obsession with spying on a beautiful woman who lives nearby leads to a baffling series of events with drastic consequences.
---
CLIMATE OF THE HUNTER (2019)


Available to Stream on Prime Video
Two sisters compete for the affections of a man who may be a vampire.
---
IMPETIGORE (2019)


Available to Stream on Shudder
A woman inherits a house in her ancestral village, but she is unaware that members of the community have been trying to locate and kill her to remove the curse that has plagued them for years.
---
JENNIFER'S BODY (2009)


Available to Stream on Hulu
A newly possessed high school cheerleader turns into a succubus who specializes in killing her male classmates. Can her best friend put an end to the horror?
---
SCREAM (1996)
Available to Stream on HBOMax
A fright-masked knife maniac stalks high-school students in middle-class suburbia.
---
THE BIRD WITH THE CRYSTAL PLUMAGE (1970)
Available to Stream on Criterion
An American expatriate in Rome witnesses an attempted murder that is connected to an ongoing killing spree in the city, and conducts his own investigation despite himself and his girlfriend being targeted by the killer.
---
THE BOY BEHIND THE DOOR (2020)
Available to Stream on Shudder
A night of unimaginable terror awaits twelve-year-old, Bobby, and his best friend, Kevin, when they are abducted on their way home from school.
---
THE GUEST (2014)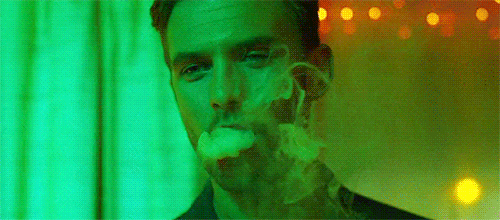 Available to Stream on Netflix
A string of mysterious deaths leads a teenager to become suspicious of a soldier who showed up on her family's doorstep and claimed to be a friend of her dead brother.
Available on Netflix
---
THE WICKER MAN (1973)


Available to Stream on Prime Video 
A puritan Police Sergeant arrives in a Scottish island village in search of a missing girl whom the locals claim never existed.
---
THE WITCH (2015)


Available to Stream on Prime Video
An English farmer leaves his plantation, relocating his wife and children to a remote plot on the edge of an ominous forest. As strange and unsettling things begin to happen, each family member's faith and loyalty is tested.
---
WHAT WE DO IN THE SHADOWS (2014)


Available to Rent on Amazon
Vampire housemates try to cope with the complexities of modern life and show a newly turned hipster some of the perks of being undead.
---
***BONUS***
FREAKY FRIDAY (2003)


Available on Disney+
An overworked mother and her daughter do not get along. When they switch bodies, each is forced to adapt to the other's life for one freaky Friday.
---
We hope you watch your favorite scary movie today and not get interrupted by a phone call.
And Happy Friday the 13th…you have been warned!